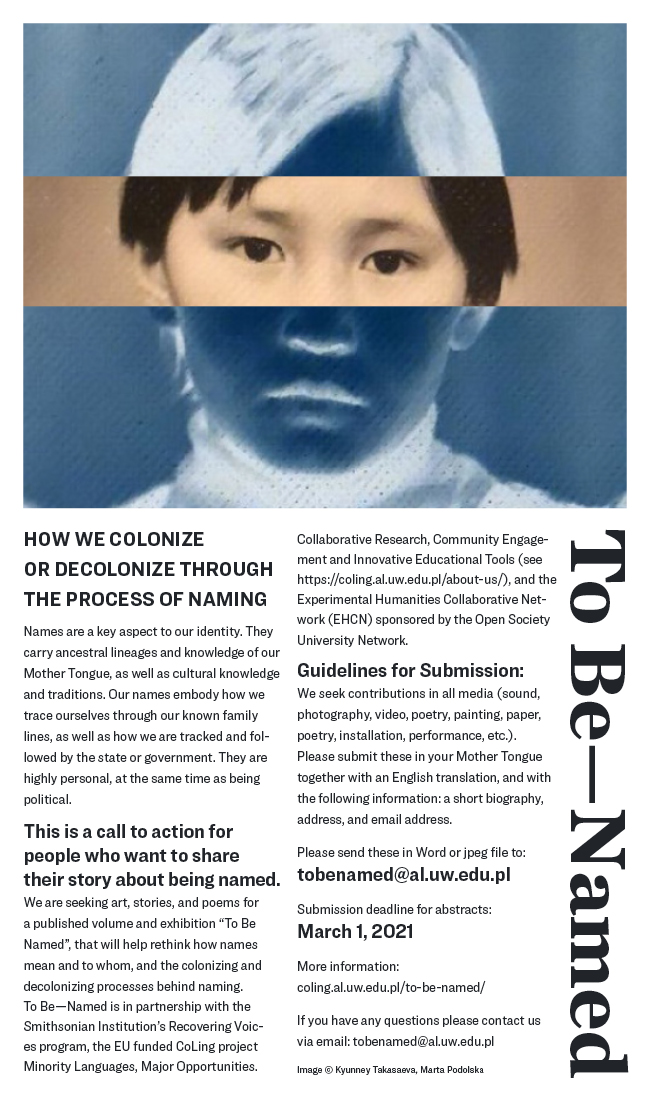 To Be – Named
How we colonize or decolonize through the process of naming
The cultural politics of naming and being named
Call for essays, analysis and art on the culture, politics, and emotions of how we are named
Names are a key aspect to our identity. They are what we call ourselves and they determine how we live and move through the world, as well as how we are understood or misunderstood. They are how we are inscribed, documented and recorded by others, and they are used by disciplines to define and categorize the worlds around us. Our names carry ancestral lineages and knowledge of our Mother Tongue, and embody how we inhabit Indigenous and colonized lands and the processes of decolonization. Names are highly personal, at the same time as being wholly political. How is it then, that we rarely explore, investigate and wholly face what it means To Be Named?
This call for essays, analysis and art on the culture, politics, and emotions of how we are named takes an interdisciplinary approach and seeks both academic and creative contributions that will be convened in a published volume (both as a book and online publication) and exhibition.
To Be Named is in partnership with the Smithsonian Institution's Recovering Voices program, the EU funded CoLing project Minority Languages, Major Opportunities. Collaborative Research, Community Engagement and Innovative Educational Tools, and the Experimental Humanities Collaborative Network (EHCN) sponsored by the Open Society University Network.
Submission deadline – March 1, 2021
Visit this link for more information: https://coling.al.uw.edu.pl/to-be-named/