Anthropology major Anne Comer on her introduction to Experimental Humanities, her involvement with the Ward Manor Cemetery Project, and learning the art of conversation through EH.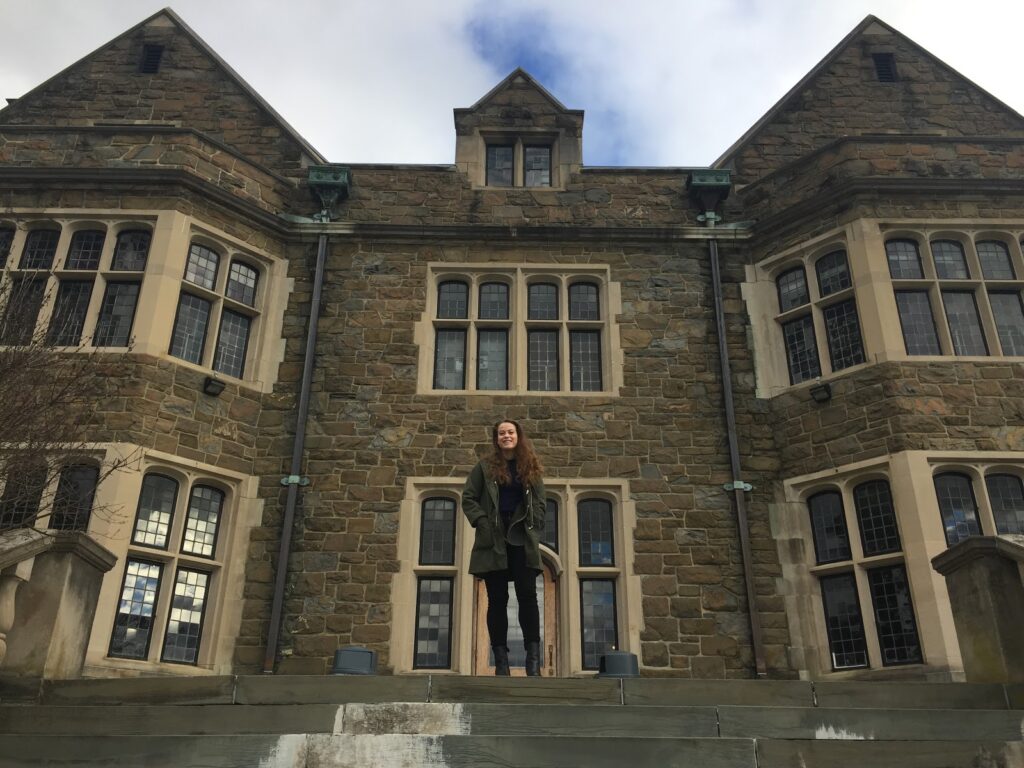 About
Ward Manor Cemetery Project
The Ward Manor Cemetery Project is multidisciplinary and utilizes different forms of media to bring you into the history of the manor; this includes genealogical research on those buried within the cemetery, oral history interviews with former residents and an interactive map. This project aims to bring the collegiate and surrounding communities together and bring history to life.
How did you first find out about EH and decide get involved?
I was taking "The Anthropology of Death," and for one of my classes, we took a tour of Manor and the cemetery. They asked for student volunteers, so I asked if I could help out. That was my entry point into EH.
Explain The Ward Manor Cemetery Project a bit.
I got involved in the project near the beginning. Before I started working on it, they (Digital History Lab staff and volunteers) had already put down orange flags showing where the graves were. That was three years ago in the fall, and the weather was kind of bad. I started by helping clean the graves, and then I started working on the genealogy.
It became a digital project through the oral history component. I interviewed the granddaughter of Ward Manor Chairman, William Henry Matthews, in order to collect histories about the town of Tivoli and Manor cemetery. My introduction to the tech side of things came from doing oral histories. I only started mapping out the grave plots this year.
What inspired you to work on this project?
I didn't know anything about the cemetery even though I'd been a student at Bard for over a year and had seen Manor house. There were a lot of questions that not many people seemed to know the answer to about where the people living in Manor came from. So I was fascinated to learn about the Community Service Society (CSS) sending people up from NYC to retire at Manor.
What exactly was the Community Service Society?
The CSS let people apply to live at Manor regardless of race, age, ethnicity, religion, or economic standing, but applications were accepted on a first-come first-serve basis. The CSS required a personal interview and a 6-month trial at the property—then applicants were given a final decision. Because it was service-based, one had to work, and the society was meant to offer low income families places to go outside of NYC. Its predecessor was the Association for Improving the Conditions of The Poor (AICP). The AICP rehoused low-income NYC folks in places upstate where they had better job prospects. But Manor was specifically a retirement community.
What are some of the things you learned through this project?
As an anthropology major, I'm studying multimodal ethnography and thinking about how tech and social science can interact. I like doing nontraditional forms of social research. Mapping the cemetery and interacting with descendants and community members through the map and website really changes the way that we can think about traditional and media-based ethnography. For me personally, it's much easier to engage with visual technology than to write a paper, and it helps make the project more interactive for viewers and accessible to a general audience.
Describe your involvement in other EH projects.
I've also worked with the digital history van. We'd go out to historic Red Hook and scan different artifacts, papers, and drawings that people would bring in. We'd do oral history interviews about the objects in order to create a community archive. I love doing oral history interviews, and getting to practice doing them with the residents of Red Hook and Tivoli was really rewarding.
What are some of the things you learned from getting involved in local histories?
I've learned how to have a conversation with someone. The person you're interviewing is leading the conversation, and you have to listen to what they're saying and take it in and then go back to the interesting parts later. You really have to multi-task. I think it's kind of a challenge to learn how to listen. And the other thing is, it's important to know when to give someone a lavalier mic or put a mic on the table. You have to learn how to get clean audio.
It's interesting that you say the other person leads the interview, because many would think it's the other way around.
I think it's important that I come in with my own questions, but whenever I'm teaching how to do oral history interviews, I make sure people know it's really about the other person. I think that's really the difference between a journalistic interview and an ethnographic interview. You're trying to get someone else's viewpoint and record their experience. It's adding to a collection by capturing the history of a people who normally wouldn't have their history written down together.
You can't be objective, but you have to be reflexive. No matter what, you're going to have an impact on the environment you're working in. You have to be aware of your own background, even if you don't talk about it. The more reflexive you are, the better the questions you end up asking are.
How do you intend to pursue these interests after you graduate?
I think EH has offered me a lot of roads to go down. I can see myself going into oral history, maybe working for a museum or a research center, or trying to get a job in media journalism, or broadcast radio, or museum studies.
I figure I'm going to cast a wide net and see where my interests end up leading me. I think it's too early for me to specialize when I have a variety of anthropology and EH skills. I'd rather apply to everything I'm interested in and decide where to go for graduate school in a year.
How do you see the Manor cemetery project changing after you leave?
I'm looking for another student to take my place with this project at the end of the year. I think it's interesting for someone to take the reins who's involved in EH but coming from Art History, History, or a different discipline; someone who can give another viewpoint and is passionate about the project. If they end up not agreeing with something I said, that's great. Part of participating in an ongoing project is that things are constantly being proven right and wrong.
Interview by Corinna Cape