Art History major Lin Barnett (2019) on learning by doing, gaining confidence, and their surprising road to a senior project.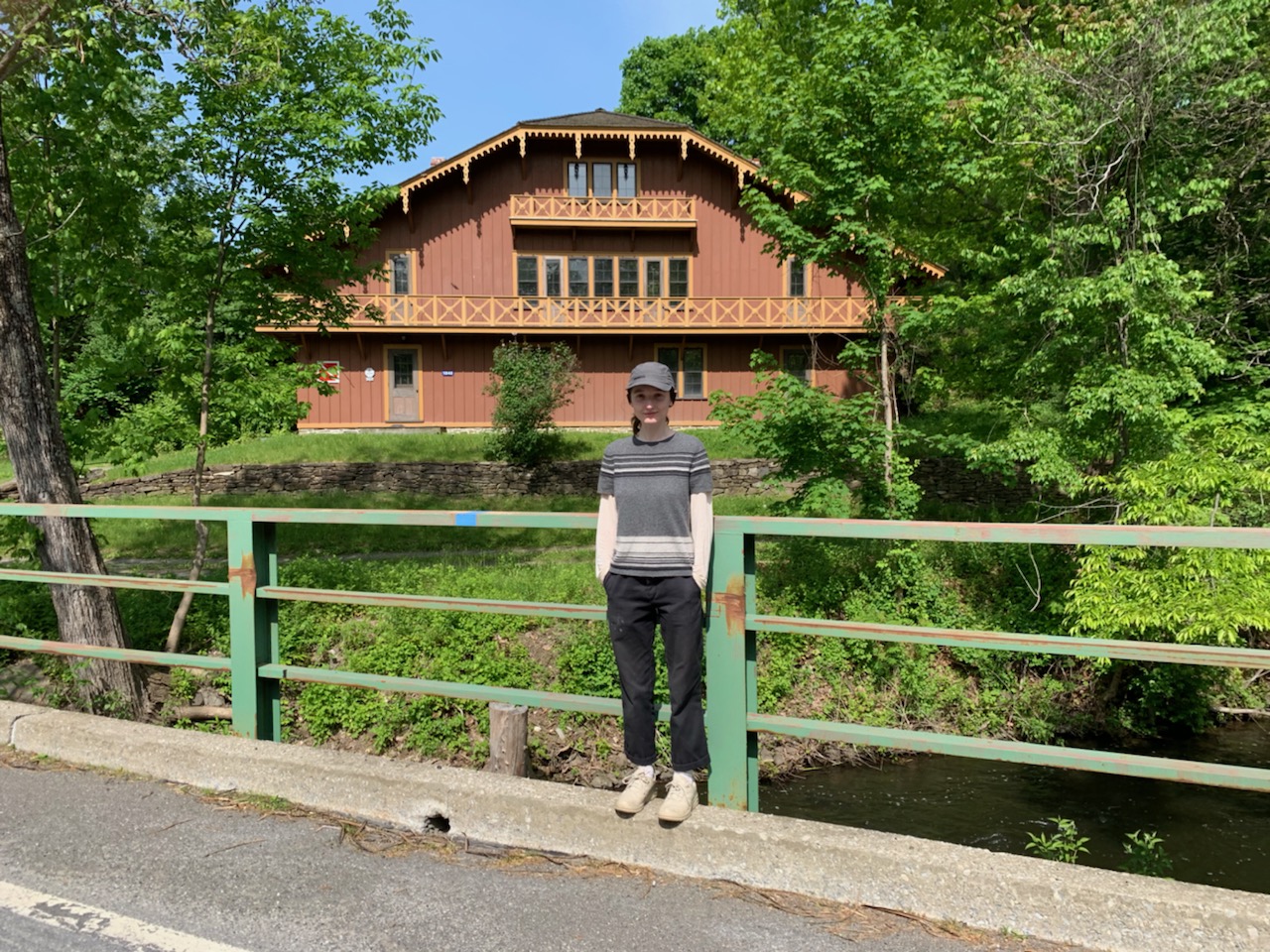 Cedar Hill
Cedar Hill: A Case Study in Preservation and Education in a Digital World is a research project and virtual reality reconstruction that allows viewers to visit Cedar Hill (now Annandale-on-Hudson) as it stood over a century ago. This interactive exhibition recalls the Hudson Valley's mill communities, which have not been as thoroughly preserved in the archeological record as the neighboring communities of Bard College and Montgomery Place. The project will analyze the structures' changing purposes and architectural qualities in order to trace the story of the hamlet's decline at the turn of the twentieth century.
How did you first find out about EH?
I had been picking up little odd jobs around campus and found the Media Corps position listed on Handshake (a student job platform). I didn't think I was qualified, but I put my resume out anyway. That was January 2018.
What work did you start out doing for EH?
The first assignment [the EH staff] gave me was the introductory video. They'd never seen anything I'd done before, and they asked me to make the video for all of our lectures and promotional materials. I was really nervous, but they trusted me, and so I wanted to do a really good job, and it worked out.
How did EH become part of your senior project?
I found out about Cedar Hill through EH. I overheard the former Digital Projects Coordinator, Gretta Tritch-Roman, talking about how they needed someone who knew how to use SketchUp to model some buildings, and I thought, "I know SketchUp and want to model all these buildings." So she said "Okay, it's yours." After I made them, I got so interested in the history of the area and had so many questions I couldn't answer that I decided to make it my senior project.
So were you given floor plans? What did you start with?
Some of the buildings did have floorplans. Swiss has a highly detailed technical plan because it had a celebrity architect, AJ Davis, and they wanted to preserve all the detail they could. He's kind of a gothic revivalist, but I tend to think of him as more of a rural architect who tries to "elevate" the status of rural spaces through elegant-looking architecture, which I think has caused a lot of tension in Cedar Hill.
What were some of the driving questions you had as an Art History major taking on an EH project?
I've always focused on architecture— modern, not Cedar Hill architecture— but when I originally adopted this project, I thought I'd go more in the direction of reading vernacular architecture and scoping out minute architectural details that would tell us a story about the buildings. The project took a completely different direction, but that was my original drive— to read these buildings, if that makes sense.
Did the project end up taking on a lot more of a social justice component?
Exactly. As I fell further and further into the archives and dug around on
ancestry.com, I found that the Cedar Hill population was very transient, and I wanted to figure out whether that was because they were constantly needing new mill workers and these were traveling workers, or if something was happening where the workers couldn't stay. I still don't have the answer one hundred percent, but I think issues of class started to become really prevalent to me when I started comparing the buildings to one another. When you look at the spacing, Cedar Hill is right in the middle between Montgomery Place and Bard College, which are two places that have well-preserved and "wealthy" vernacular architecture. So this tension is something I became very interested in, and then my project became more focused on working-class spaces.Do you feel like that class history has been erased?
Totally. When I tell people about these buildings, they're very surprised to learn that during Bard's existence, there was a working class community here. And [this community] didn't have anything to do with Bard other than going to the church, or they may have interacted at the bars. But really, this was a separate entity that was connected to Montgomery Place through funding, but its own special world, since it was so separate visually and spatially.
And then, as with many lower income communities, they got pushed out?
Yes. All the houses got bought out by real estate companies at the turn of the twentieth century. And then they started to rent them to students and professors, which is kind of what they're still used for now.
What are some of the things you took away from your project that you think will help you with research or explorations in local histories?
Honestly, I think it was just the confidence it gave me to be able to take on this kind of project alone. When I started out, I was building these structures in SketchFab one by one at my own pace. That's different than having to synthesize it and make a coherent model and tell a coherent story that goes along with it, so that part was very intimidating for me. For months, I didn't know how to put Cedar Hill's history and these models together. I didn't know what I wanted these buildings to say or what I could extrapolate from them, which is when I decided to do a comparative study between the buildings as they stood in 1876 and in 1902, because there's a lot of change that happened.
Could you talk a little bit about what you'll be doing when you graduate?
I'll be working for a company in Hudson called JEM Woodworking. They mostly make custom cabinets. What I'll be doing is drafting, which means I'll make technical drawings, which are sent to our fabricators, who make the cabinets. Eventually, I plan to go more into the design side of things while keeping the technical side and maybe combine the two.
Do you feel EH has prepared you for that?
Definitely. I wouldn't have had the opportunity to keep up my CAD (computer-aided design) skills without EH. I started fooling around with CAD for my "Building Stories" literature class with Pete L'Official and thought, "Oh, CAD can be kind of fun. I don't think I'm very good at it, but it's at least something I could kind of do." And then once I started working with EH, I had to use it, so I had to get better at it, which I think was perfect and now has absolutely prepared me for this job.
Do you have anything you'd tell other students who want to get involved in EH but don't know what it is or where they'd go with it?
I didn't know what it was or where I would go with it. I think it's okay to be curious about something and go for it. My experience is different from anyone else's, but I can't imagine going into EH and having all of these assignments and thinking, "this isn't really for me." The projects are all quite fun, and you have a lot of support with them. If you have questions about software or things like that, it's sort of a learning tank. Of course we produce a lot, but really, what I think is valuable about EH is that you have to learn so much through doing. It's not so much about being taught something, like you would in a classroom. You just have to figure it out for yourself, and I think it makes you so much better.
Interview by Corinna Cape