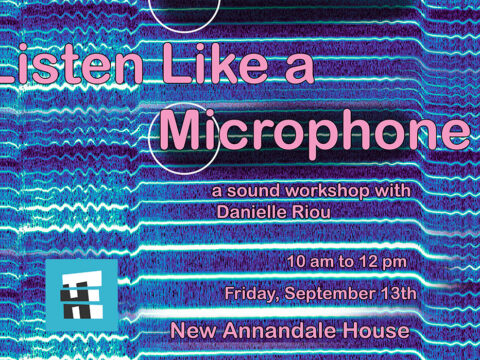 Listen Like a Microphone
September 13, 2019, from 10:00 am to 12:00 pm
This 2-hour workshop will introduce participants to the art of listening to and recording sounds using digital audio recorders. You'll learn to tune your ears to the world around you and to record a variety of sounds using simple and effective techniques.
We will focus on recordings for voice, ambient/environmental sounds, and field recordings through hands-on recording exercises, followed by group listening exercises that will sharpen participants' aural judgement and technical decision-making abilities.
By the end of the workshop, participants will understand why it's so important when making audio recordings to 'listen like a microphone."
If possible, please bring a laptop and over-ear headphones. We will have limited extras on hand.
When: 10am-12pm; Friday, September 13
Where: New Annandale House