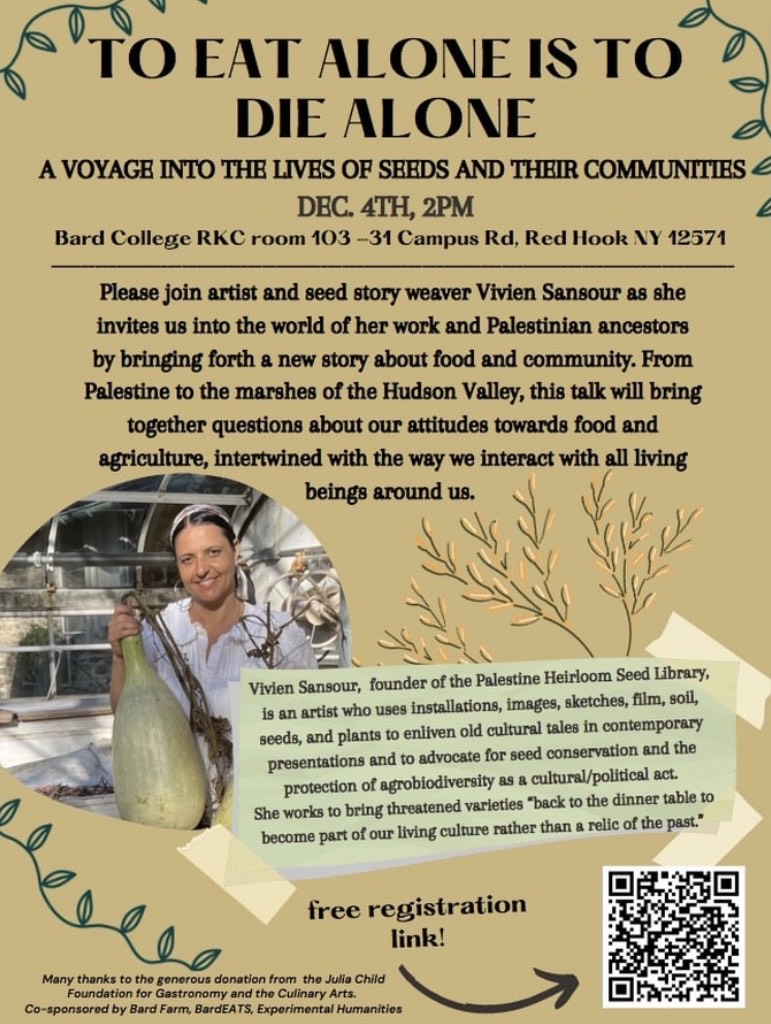 To Eat Alone is to Die Alone: A Voyage into the Lives of Seeds and Their Communities
Sunday, December 4, 2022
2:00pm
RKC 103
Event Details
Join artist and seed story weaver Vivien Sansour, Experimental Humanities Collaborative Network (EHCN) Distinguished Artistic Fellow as she invites us into the world of her work and Palestinian ancestors by bringing forth a new story about food and community. From Palestine to the marshes of the Hudson Valley, this talk will bring together questions about our attitudes towards food and agriculture, intertwined with the way we interact with all living beings around us.
Vivien Sansour, founder of the Palestine Heirloom Seed Library, is an artist who uses installations, images, sketches, film, soil, seeds, and plants to enliven old cultural tales in contemporary presentations and to advocate for seed conservation and the protection of agrobiodiversity as a cultural/political act.
She works to bring threatened varieties "back to the dinner table to become part of our living culture rather than a relic of the past"
This event is made possible thanks to a generous donation by the Julia Child Foundation for Gastronomy and the Culinary Arts. Cosponsored by Experimental Humanities, Bard Farm and BardEATS.