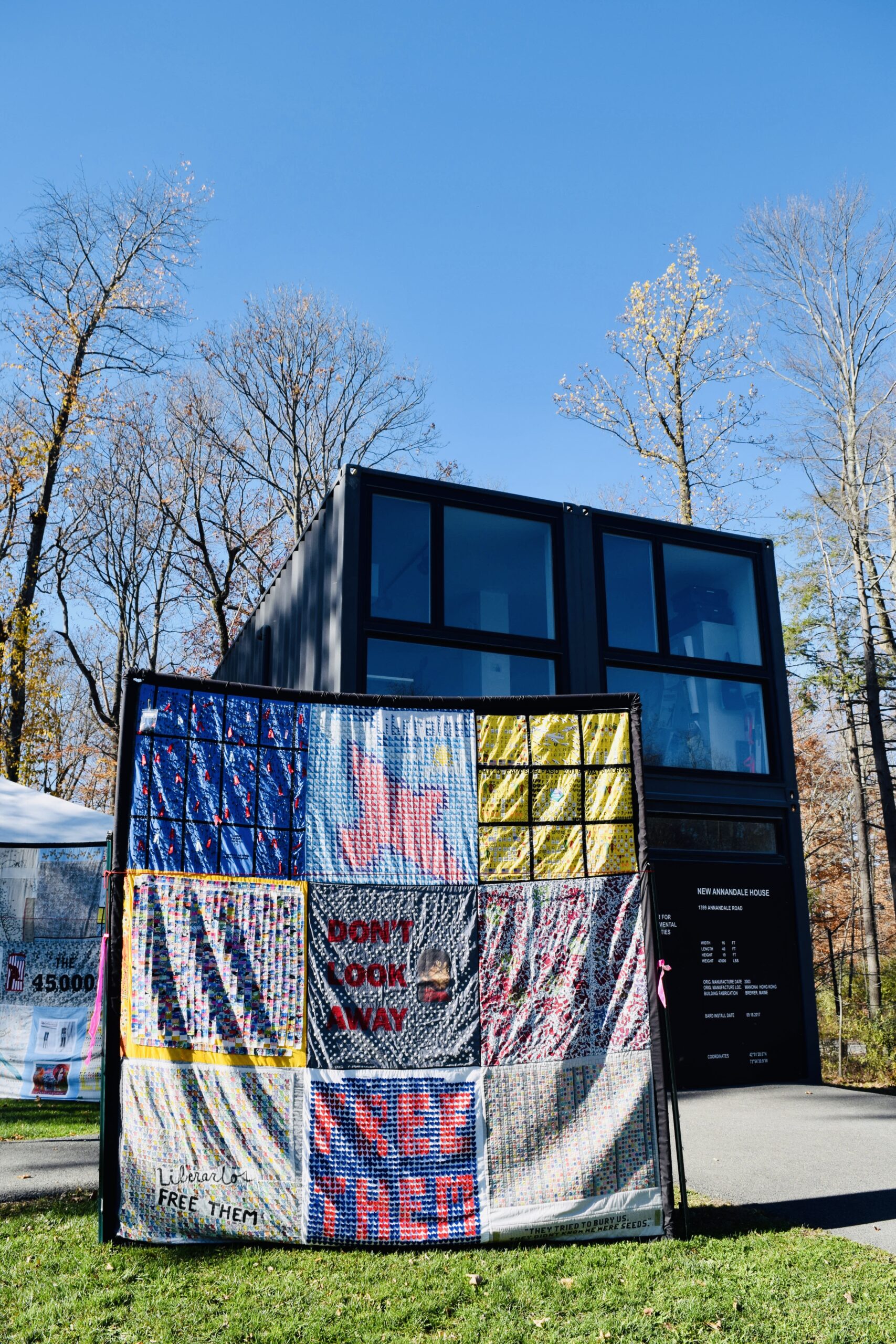 The Human Rights Project, the Center for Experimental Humanities, and the Latin American and Iberian Studies Program invite you to walk over to the Center for Experimental Humanities to view our outdoor exhibition of the
45,000 Quilt Project
Four 9'x9′ handmade quilts
On display this week, Nov. 9 – Nov 13, daily 10am – 3PM
When: On display Nov. 9 – Nov 13, daily from 10am – 3PM
Where: Under the EH tent at New Annandale House
More Info: As thousands of asylum seekers and other immigrants are detained in for-profit, taxpayer-funded detention centers across the United States, more than 60 concerned activists and artists have joined forces to create a mighty quilt that will illustrate the sheer enormity of this travesty.Participants in the "45,000 Quilt" project hail from 12 states and from Oaxaca, Mexico.  Many are members of immigrant justice organizations.
"The inspiration for the project was the number 45,000," said project founder, Glen Ring, a member of the Human Rights Group of the Kent Street Coalition in Concord, New Hampshire, which is sponsoring the quilt's creation.
"45,000 people were imprisoned by U.S. Immigration and Customs Enforcement (ICE) on an average day in 2019. I thought that a huge quilt with a mark for each detained person would capture viewers' attention," Ring said.
Participants are crafting 45 panels, each measuring 34 inches by 34 inches, and each containing 1,000 marks to represent 1,000 people in detention. When the quilt is completed, it will have 45 panels, 45,000 marks and be 45 feet long.
Panels have been painted, stamped, quilted, embroidered or prepared using a combination of methods. Completed squares are sent to Ring and sewn together by a team of four women in the Concord area. Maja Hauck Smith, Nancy Brennan, Kathy Spielman and Donna Lannan are activists with serious sewing skills. "These sewists are absolutely amazing. They sew the panels, back them and create sleeves so the quilt can be displayed," Glen said. "We have frequent team meetings to discuss techniques and logistics."
This exhibition is made possible with the support of the Consortium on Forced Migration, Displacement, and Education