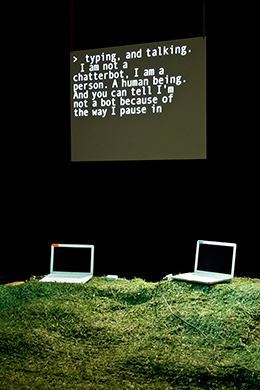 Hello Hi There
By Annie Dorsen
Tickets: $20; $5 Bard community
Discussion after the 6 pm performance with Annie Dorsen and Maria Sachiko Cecire, coordinator of the Bard Experimental Humanities Program and assistant professor of literature

Hello Hi There uses the famous television debate between the philosopher Michel Foucault and linguist/activist Noam Chomsky from the seventies as inspiration and material for a dialogue between two custom-designed chatbots. Every conversation between the chatbots forges a unique path due to their custom-made software, which has been programmed to mimic the nuances of human conversation. The result is an unexpected, uncanny, and humorous meditation on what separates humans from machines.
Obie Award–winning director and writer Annie Dorsen works in theater, film, dance, and digital performance. Her most recent work, Hello Hi There, premiered at the Steirischer Herbst festival (Graz), and was presented at Black Box Teater (Oslo), BIT Teatergarasjen (Bergen), Hebbel am Ufer (Berlin), and PS122 (New York), among others. She is cocreator and director of the 2008 Broadway musical Passing Strange. In 2009, she created two music theater pieces: Ask Your Mama, a setting of Langston Hughes's 1962 poem, composed by Laura Karpman and sung by Jessye Norman and The Roots (Carnegie Hall), and ETHEL's TruckStop, seen at the Brooklyn Academy of Music's Next Wave Festival. In 2010, she collaborated with choreographer Anne Juren on Magical and with Juren and DD Dorvillier on Pièce Sans Paroles. In addition to numerous awards for Passing Strange, Dorsen has received several fellowships, notably the Sir John Gielgud Fellowship from the Society of Stage Directors and Choreographers. She has taught at New York University, Fordham University, and Playwright's Horizons, and is a graduate of the Yale School of Drama.